WHY WRITE ANOTHER
HOLOCAUST HISTORY BOOK?

Everything in Holocaust history began to crumble with the Berlin Wall. The world was given access to what amounted to more than half the documentary evidence and historical sites. The WWII generation in Germany began to die away, and sources and evidence once closely guarded became available. As such, our understanding of The Holocaust is evolving and maturing. This book series addresses the vast gaps in now outdated Holocaust history.


OUR HISTORY IS INCOMPLETE:

The Eugenics Anthology book series is based on original archival research. It is the culmination of decades of scouring the archives that hold the personal correspondence of the leading players in the International eugenics movement that culminated in The Holocaust. We have hunted down forgotten books, journals, and publications from the era. The result is unusual insight into the minds of the doctors, lawyers, scientists, and jurists that made the "scientific racism" movement possible.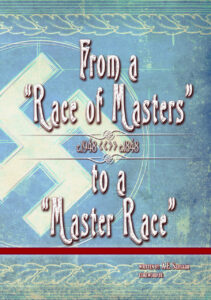 VOLUME #1
From a "Race of Masters" to a "Master Race": 1948~1848
The first volume of the series introduces the reader to the consequences of eugenic utopianism by injecting them into the Nuremberg Trials, at the end of WWII. The book follows a backwards timeline, tracing from leaf back down to the root of the eugenics movement's 100 year trajectory. All the branches and offshoots of the movement are dutifully explored, analyzing the consequences of its utopian aspirations.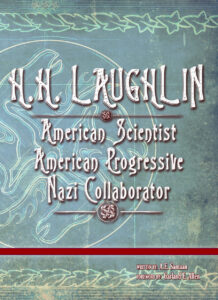 Volume #2:
H.H. LAUGHLIN: American Scientist. American Progressive. Nazi Collaborator
The Holocaust simply could not have happened the way it did without the contribution of scientists such as Harry H. Laughlin. One could easily argue that much more digested personages in history, such as Mengele, were following Laughlin's lead.Yet, even seasoned scholars of Holocaust History are seemingly oblivious to Laughlin's existence. Volume #2 of The Eugenics Anthology is the first, and to this date, only book dedicated to Laughlin's pivotal role in history. This second volume to The Eugenics Anthology carefully lays out the significant influence Laughlin's work had on both sides of the Atlantic. Read the back cover blurb, and ask yourself how it is possible that this man is mostly unknown to history.